Lucid GTO
Advanced GTO study tools.
Subscribe - try 4 days free
Practice drills against GTO
Lucid GTO Drills let you practice against perfect opponents and get real-time feedback on your decisions to quickly identify leaks and review in-depth analysis on player ranges.
Quickly create fully customized drills for any situation you want. Drill single on actions or entire hands. And with Lucid GTO you are not restricted with bet sizes -- you can adjust turn and river sizes easily to create the drills you need.
Drills track your progress over time so you can see how much you've been improving. And, better yet, Drills will start to automatically find the weakest parts of your game and suggest more specific sub-drills to improve your leaks quickly!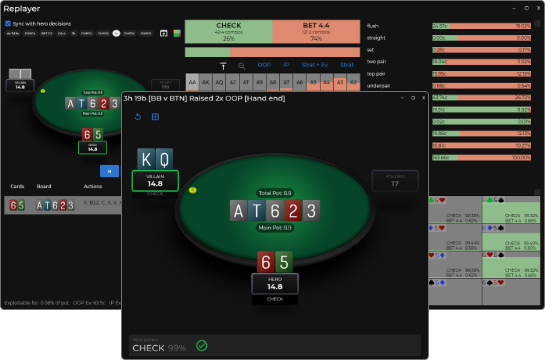 Browse any spot, instantly.
With the Lucid GTO Browser you can quickly pull up any of your sims and review them in our sleek new interface. Advanced analysis features give you all the tools you need to get a better understanding of why GTO does what it does.
You can even quickly adjust turn and river sizes to see how strategies change when facing different bet sizes.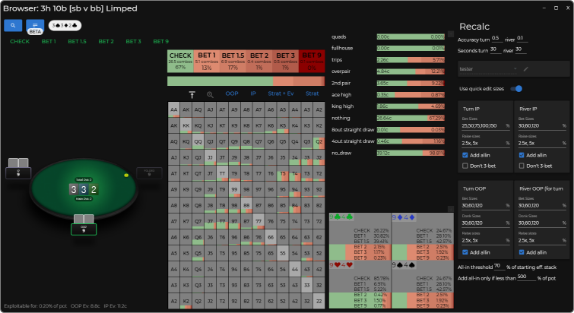 Built-in solver
Don't own a solver? No problem. Lucid GTO has a built-in solving engine thanks to our friends at PioSolver. So your Lucid GTO subscription includes access to the best solver around.
Custom bet sizes
With Lucid GTO you are not tied down to the sizes used to create your sims. You can quickly recalculate turn and rivers with any custom sizes you desire. Set up reusable recalc configs or adjust the sizes on-the-fly!
Sims included
No need to spend hours running your own sims. You can use our expertly created high precision sims on-deman. We're in the process of solving most scenarios for NLHE games. So if we don't have the sims you want now we'll likely have them soon.
Or, use your own sims
In addition to our cloud sims you can use your own sims locally on your machine.
Hand history analysis (coming soon)
Have Lucid automatically analyze your play and show you how you played compared to how GTO would play. And analyze exactly where your opponents are exploitable by seeing what lines they play differently than GTO.
Lucid GTO Basic
Does not include cloud sims
Lucid GTO Pro
Includes cloud sims
Lucid GTO Basic
Does not include cloud sims
Lucid GTO Pro
Includes cloud sims
Cloud sims for Pro version currently include:
HU SNG (up to 25bb)
Spin N Go (up to 25bb)
6max Cash: BTN, SB, BB (100bb)
HU Cash (100bb)
More new spots will become avialable every couple of days. Virtually all common NLHE scenarios/formats will be solved.